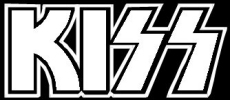 CELEBRATING 30 YEARS OF KISS IN AUSTRALIA
Linda Curran who has been an excellent contributor to this site has now started her own...
RADIOACTIVE KISS-It's a KISS fan's life
Great fan site put together by Brett and Donna in Brisbane with excellent articles detailing their KISS experiences...
The Australian KISS fan club.
Gene's Official Website
The Official KISS website.

Cool fan site with a difference.

KISS- 'The Lost Years'...
Great Aussie produced drummers mag, Issue 32 featuring Peter Criss cover story!
Adelaide based Heavy Rock!
Excellent Tribute band. Check 'em out!!